THE CHALLENGE
How did it all come about?
Debs & Glen are the memorial makers for Arthur Worsley Funeral Services whose website we also designed in the winter of 2021 (case study). As we were designing their support pages, we noted that the memorial makers existing website, known as Albert Jones Memorials, was not mobile friendly and wildly out of date.
We approached them directly and were very happy to hear that they liked what we achieved for their introducers and quickly got to work in instructed peak promotions to support them on their business journey.
They have a catalogue of thousands of memorials that are available for their clients, with expert cleaning, specialised engraving and re-fixing services on top of that too.
This was a big job, and so a plan has been put in place on a monthly responsibility to continuously populate the site with new memorials on a monthly basis.
Within 5 weeks, we went live and both Peak Promotions and Albert Jones Memorials are very happy with the final result.
*By the end of their first month, they achieved some of their best sales figures!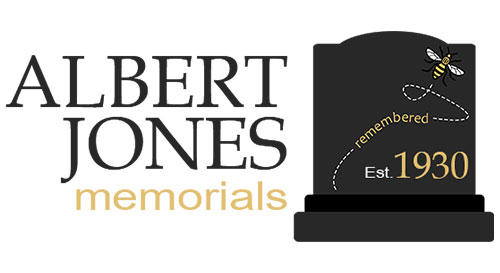 OUR SOLUTION
What we delivered!
Mobile friendly Website Design
Beautifully illustrative and informative 15 page structure that promotes an ever growing online catalogue.
Logo Design
Created a whole fresh new look.
Web Hosting + Maintenance
Peforming regular updates and fixes.
DNS + Email Management
Owning and managing the Domain Name Server.
Promotional Design
Designing banners and adverts for digital mediums.
Social Set-Up
We ensured that their digital profiles were correctly alligned, reflecting the same quality brand as their website.
Ongoing Marketing Management
We support their catalogue generation by regularly designing and uploading new headstones to the site.
PEAK PERFORMANCE
Standard integration included:
Google Analytics Integration
Peak Promotions will embedd Google Analytics as standard on all clients websites. We measure your traffic, so you then know where to improve it.
Maximise Imagery
All imagery to be correctly processed within photoshop and reduced in size to maximise speed performance of the site.
Google Maps API
We correctly manage and pin all office and service locations within a beautifully responsive map functionality.
reCAPTCHA
We install and manage a fraud detection service that stops bots and automated attacks while approving valid users.
3rd Party Listings
Population and design of Google my Business Listings, Bing Business Listings and Google Maps. This will encourage more clients to find your services/products.
SEO Friendly
By also embedding H1 Tags, Meta Tags and alt descriptions throughout your website as standard, you'll be ready for any future key word strategy you may wish to undertake.
Indexing
Indexed Correctly on Search Console to allow bots to safely and effectively crawl the site – requires DNS verification.
SSL - Safe Browsing
A validated SSL Certificate will be in place, securing the site for the safety of visitors.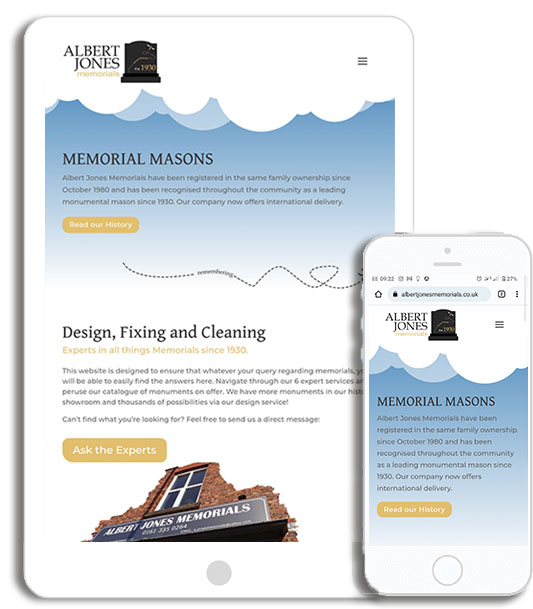 "Thank you so much for our lovely new website! I can't believe how different and effective it looks on a mobile phone, you've gone out of your way to bring to life our business!
Thanks for listening and understanding to exactly what we wanted, offering solutions wherever possible.
Our job is to be caring and understanding and we feel this comes across on our new site. Thank you."
Debrian & Glenn
OWNER's – Albert Jones Memorials